Bathroom renovations, when done right, are a good way to increase the value of your home. However, in my many years as renovations contractors, we've seen a lot of shoddy bathroom reno projects. And I'm not just talking about DIY jobs. We're talking about contractors who call themselves professionals who come in and create a disaster.
Moisture can quickly destroy a home and this is why if you doing a bathroom reno we want you to do it right the first time. Here are your do's and don'ts when it comes to a bathroom remodel. While we offer this information for homeowners, we highly suggest you bring in a qualified contractor (like ACR!), to do your bathroom renovation right. Knowing these tips will enable you to tell if your contractor is doing the proper steps required in a bathroom renovation.
Do invest in in-floor heating
Who loves cold feet? Certainly not us. Here is why in-floor heating is a wise decision:
walking on a warm floor (especially in winter) provides comfort and feels great,
systems are programmable so you can set it to the perfect temperature,
newer systems can now be controlled from your mobile device (you can set your floors to be nice and toasty for your arrival home!),
systems are energy efficient which means lower energy bills and cost savings,
heating systems can be installed only in areas that require heating (it's pointless to put heating systems under your vanity).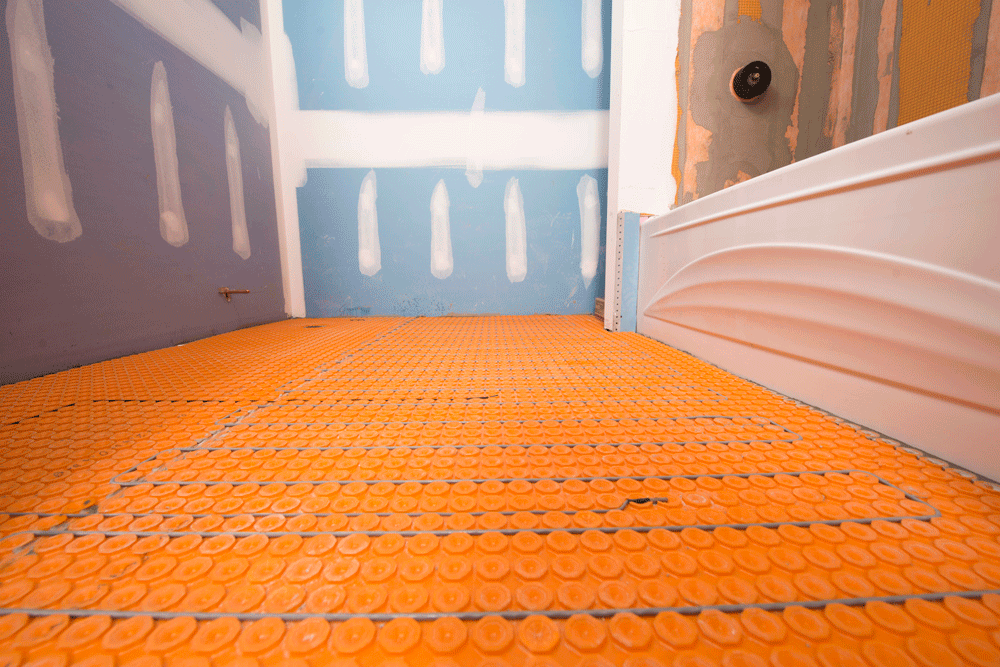 Do upgrade your bathroom vanity
Vanities are a big plus for adding extra storage space and for all our grooming products.
There are so many options for vanities: single sink, double sinks that include cupboards and drawers, or even wall mount vanities—all providing different storage options so you can get the most out of your space.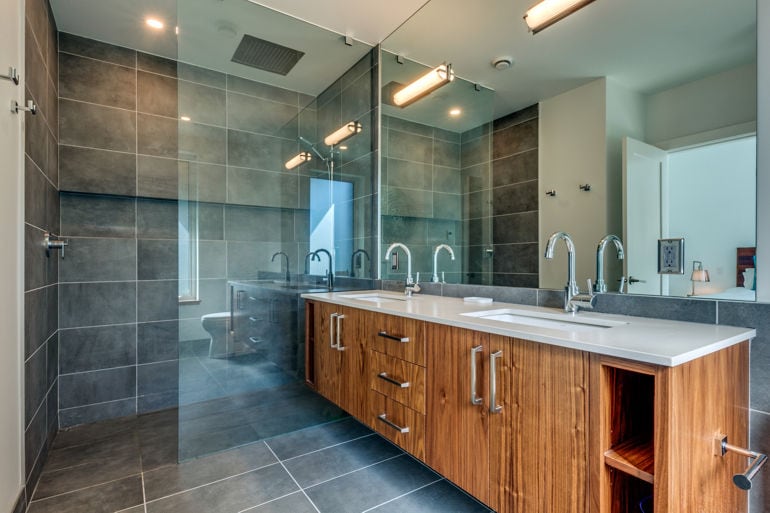 Do waterproof your bathroom
We always talk about the importance of waterproofing your bathroom. A reliable waterproofing system (and I am not talking about your drywall) will ensure that moisture isn't penetrating your walls or floors.
If you find you have a musty smell in your bathroom, that could be an indication that you have mould. Mould is not toxic but it can exacerbate allergies and asthma and will need to be addressed in any renovation of your bathroom.
There are many options available to your contractor but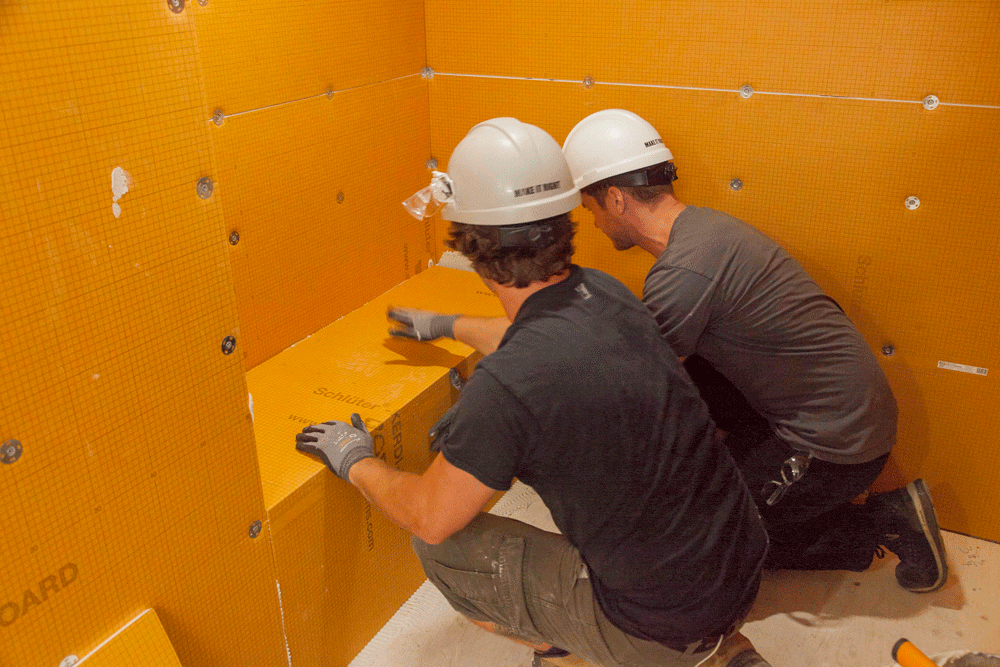 Do budget for the unexpected
If you have an older home, it's probably best that you budget for some surprises! Improper ventilation and hidden water damage could amount to some extra work, so it's always good to have a 10-15% cushion in your budget, just in case. If you don't use it, then it can go back into savings or for another project.
Do upgrade for the future
It just makes sense to consider the future when you are doing a renovation. As we age, our priorities change, but we also want to stay in our homes for as long as possible. So, if you have more than one bathroom, perhaps a curbless shower might be in your future.
Being prepared and creating a bathroom that provides accessibility for the future is a smart idea. Also, remember to talk to your contractor or designer about adding blocking for extra support bars. You may not need them now or want to install them, but planning and being prepared will save money in the long run.
Do keep a bathtub
If you have multiple bathrooms in your home, I recommend keeping at least one bathtub in one of the bathrooms. A tub is something families with young kids look for, and you want to make your house have as many pluses as possible when you go to sell your home. If you are going to replace your bathtub with a newer version, there are plenty of styles available.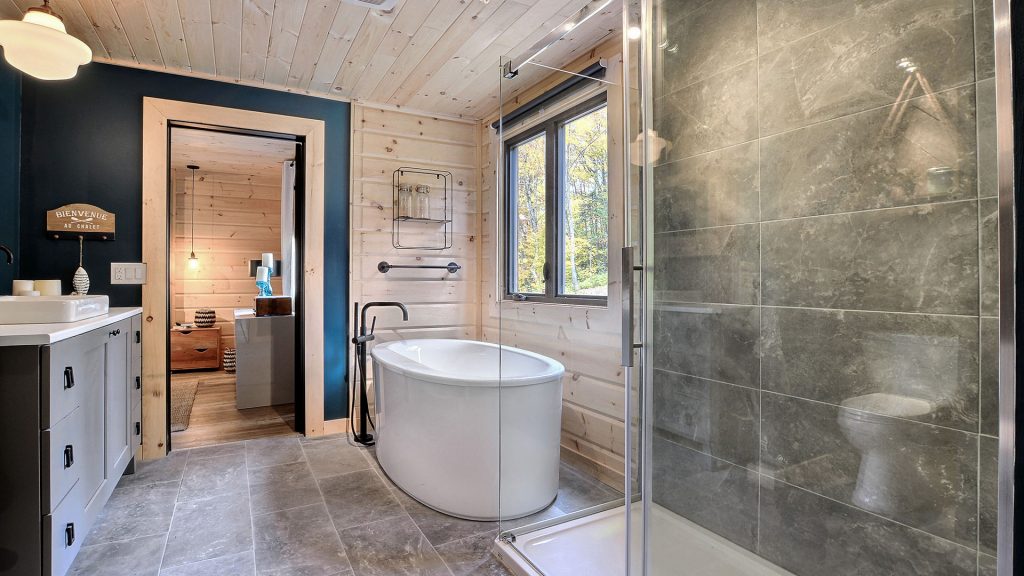 Do consider eco-friendly products
If you are going through the trouble of renovating your bathroom, you should consider swapping out your old toilet and facets. Many eco-friendly products provide significant water efficiency and cost savings, like low-flow toilets that use far less water than the older models. Updated shower faucets also can provide substantial water savings, and if you have a family that loves taking showers, this could make a massive difference to your water bills.
Do consider adding more storage
You can never have too much space to store things. Consider adding vanities, shelves, and more to expand the usable space in your bathroom.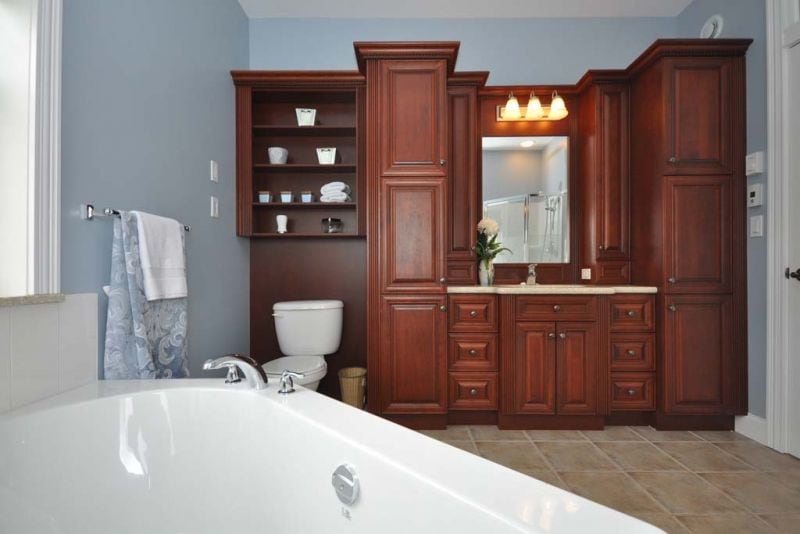 Do consider hiding the toilet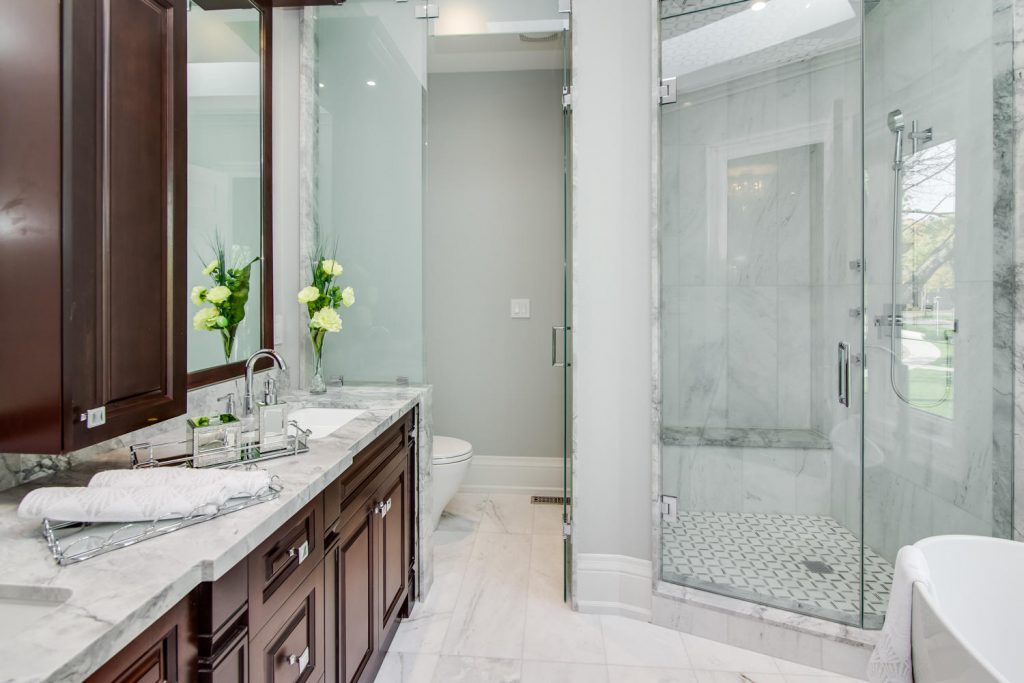 Frosted glass panel and door hide the toilet and provide privacy in this bathroom.
Don't put tile over tile ever!
Always remove the existing tile and inspect the underlay and subfloor. Make sure the floor is even too! If it's not you can use a self-levelling compound. A well-prepped underlay and even floor will prevent cracking, dips and even squeaks in your bathroom floor ensuring your floor will last a long time.
TIP: Our top pick for tiles is porcelain. It's extremely durable and has a very low moisture absorption tendency. Plus, the options are endless when it comes to look – tiles mimic wood, marble, granite anything really. Porcelain tiles are a great option for floors and walls. You can even get porcelain slabs, which provide a seamless, no grout-line finish.
Don't install hardwood flooring
Hardwood flooring is not a good choice for high moisture areas. We love installing porcelain tile in bathroom projects. It's a stronger tile extremely durable and has a very low moisture absorption tendency (good for high moisture areas). However, if you really love the look of wood, porcelain tiles are now designed to mimic a variety of wood finishes.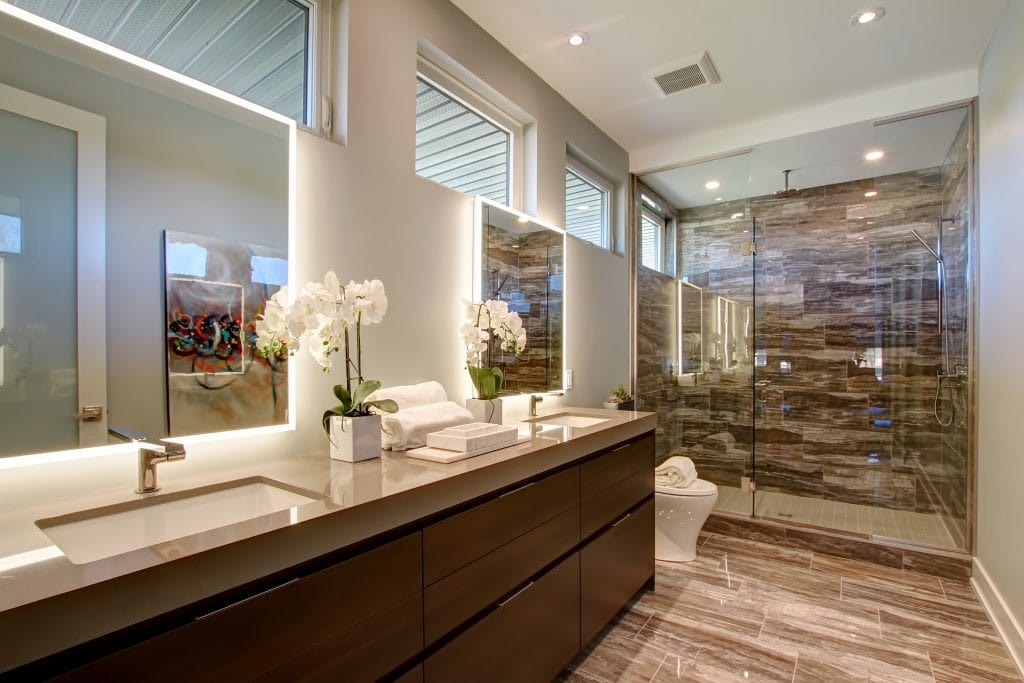 Don't use hardwood in your bathroom, instead use tile that mimics a wood feel.
Consider the main function of the bathroom
Remember to think about the primary use of the bathroom you are renovating. A master bathroom or shared bathroom will have a different function than a downstairs bathroom or even a basement bathroom. The design and function should provide you with the maximum benefits. If you feel overwhelmed, consulting with an interior designer from ACR can give you the help you need.
Don't break the bank on hardware
Don't go overboard on your bathroom hardware. Of course, you want something that's good quality and durable but you don't have to break the bank. There are many different styles, colours and finishes in all price ranges to choose from. Gog with something classic and timeless, however, hardware is an item you can easily change up to give your bathroom a whole need look.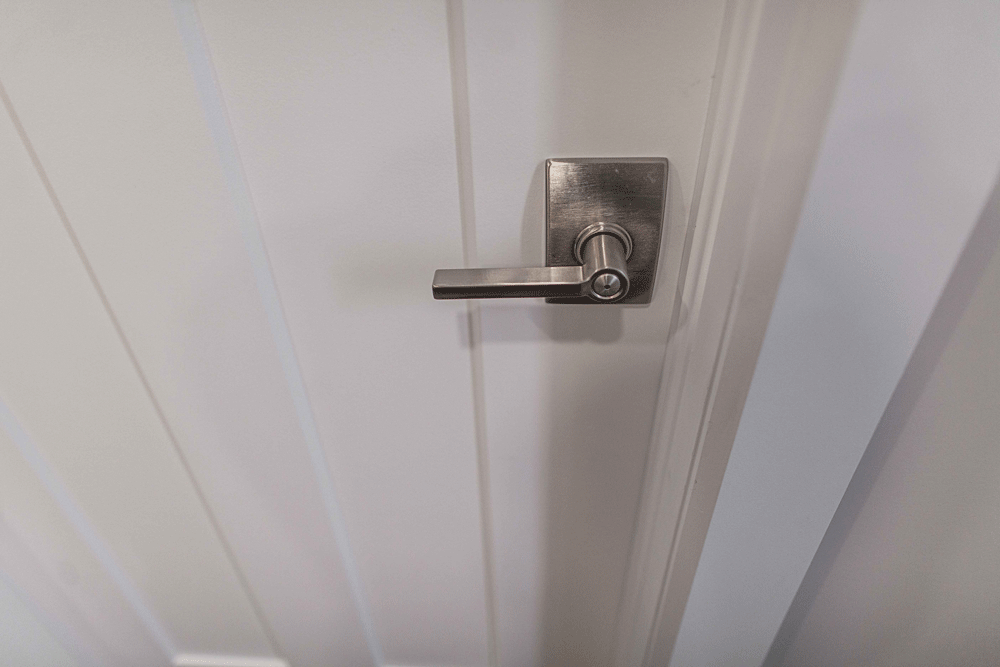 Don't forget about ventilation
A lot of older homes have inadequate ventilation which can lead to mould and mildew. So, now is the time to correct this with proper ventilation. Having a high quality, powerful exhaust fan in your bathroom is vital. Homeowners often fail to realize how much moisture is created in a bathroom from all those hot showers. That moisture needs to be correctly extracted from the space, and yes, an open window helps, but the installation of an exhaust fan is a much better option. And finally, make sure the exhaust is venting to the outside of your home and not your attic space! A build-up of moisture and the damage that results can destroy the structure of a home.
Don't forget about adequate lighting
It's very annoying to use a bathroom that has insufficient lighting! You must have adequate lighting for things like shaving, putting on make-up, and tending to those nasty cuts and first aid moments. Plus, lighting provides an ambience as well as function and there are many styles of fixtures available.
Recessed lighting is a great option for a bathroom, especially in the shower area (just make sure they are rated for use in a wet zone and are good quality). A bathroom should really have multiple light sources, meaning you can have an overhead light, wall sconces flanking your mirror and vanity light above or consider a combination for the best overall lighting.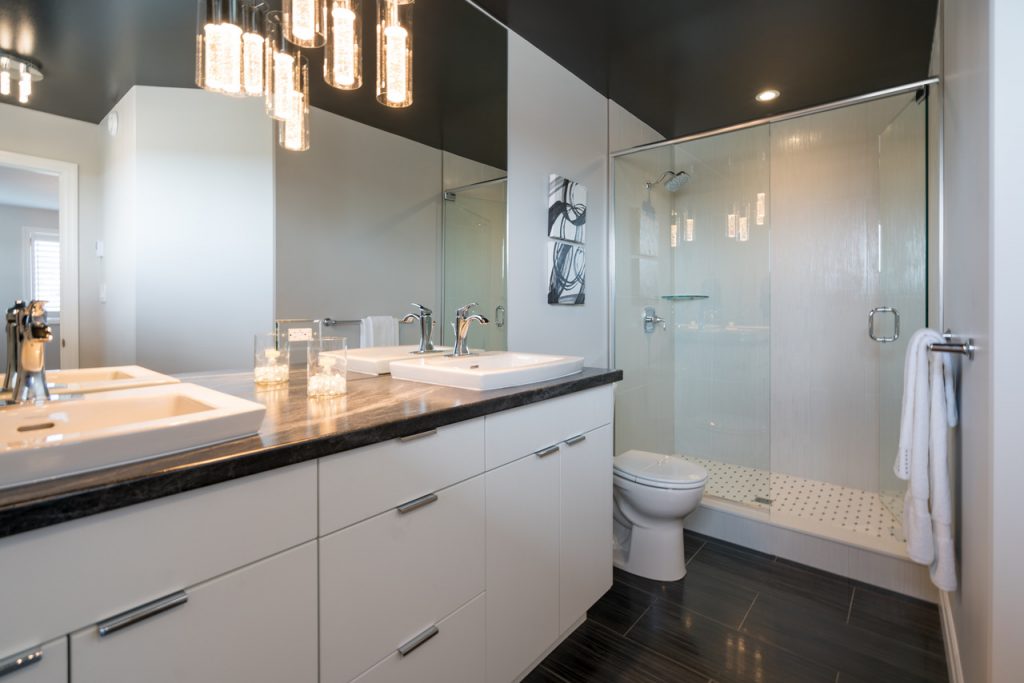 In Closing
There are a lot of things to consider in a bathroom renovation, it is one of the most intense and complicated renovations you can do in your home. So get it done right and call in the pros of ACR.