When we talk about open concepts in architecture, usually the focus is on kitchens or living and dining rooms. When it comes to bathrooms renovations, where space is at a premium, an open concept bathroom can help make a small space feel big (whether a 3-piece bathroom or a 4-piece bathroom). But how do we get this effect? Knocking down walls isn't going to work for privacy's sake, so we need to find space within those four walls to open up. Where do we focus those efforts?
Start with your shower. Open-concept bathrooms, walk-in showers, or curbless showers are an idea that is growing in popularity – and for good reason. They offer accessibility – and lots of flexibility in design. When we remove the barriers for our shower, we can also create a seamless look in the bathroom, making it look and feel bigger. If you have multiple bathrooms this is a very viable option for you. Each home should have one bathtub though for resale purposes and for utility. A bathtub is sometimes needed for larger cleaning jobs.
Let's talk unexpected benefits of a curbless (or open shower) in your home. Accessibility is the largest benefit. By removing tubs and barriers in your bathroom and home you enable access to people with limited mobility and make bathroom access easier for them.
Pros and Cons of Going Curbless
There are reasons for and against installing curbless showers. While the pros outweigh the cons – here are a few things you should think about if you're considering a curbless shower for your next bathroom renovation project.
Pro: Functionality
We like to talk about building a forever home. This means a house that ages with you and your changing needs. A curbless shower offers improved accessibility to everyone from the very young to the very old.
A bathroom on the main floor with a curbless shower offers a lot of advantages to homeowners who have trouble making the step into the tub or shower as they slow down with age. Surprisingly, removing a bathtub doesn't affect the saleability of a home as many people are fine with only a shower in their bathroom and in fact, many people require it.
Con: Water Can Get Everywhere
Installed properly, you'll be fine – but if you don't plan it well, you could have some pretty big problems with water and your curbless shower. Without a curb, the shower water isn't contained in the tub area and can get EVERYWHERE.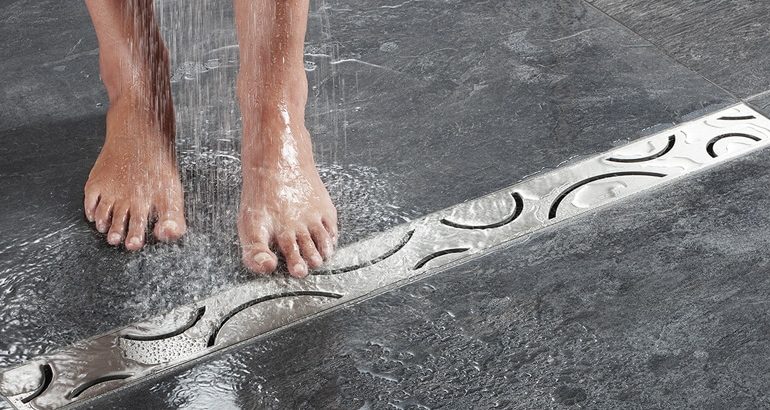 There are a few ways you can alleviate this. A rain head fixture keeps the water in a more contained area. A curved shower wall can help direct the water to the drain as well. The most important consideration is to make sure to slope the shower floor away from the shower entrance.
Pro: Easier to Clean
Who actually likes cleaning the bathroom? A curbless shower creates a much more open, manoeuvrable space, making those areas easier to reach in and clean.
Con: Lack of Privacy
If you grew up with a big family with no shame, you may be used to people just walking in while you're in the bathroom. Many curbless showers are pretty open – and without an obscuring curtain or door, well, you better start locking that bathroom door.
Pro: Luxury, Spa-like Showers
Curbless showers give you lots of flexibility when it comes to design. Additions like benches, in-set shelves, niches, and even heated floors are all possible in your curbless shower.
Building a Curbless Shower
Your shower needs to properly direct water to the drain. That makes sense, right? So how do we make this happen? It's all about the way we build it.
Step One: Laying Your Sloped Shower Tray
Adding a shower tray eliminates the need for a mortar bed. Pre-fabricated thin shower trays are easily installed and accommodate linear drains.
Step Two: Adding Waterproofing
So what do you do to protect your bathroom shower renovation from moisture penetration? Waterproofing membranes offer protection behind your shower walls that keep your shower protected against mould and mildew penetration.
Step Four: Draining Water
Finally, it's time to install your drain. Linear drains let the shower floor pitch in one direction (where the drain can be installed almost anywhere in the shower) vs a point drain, which requires the floor to be sloped in four directions.
In Conclusion
IF you are renovating your bathroom, you should consider a curbless shower. There are many design options and benefits to this type of shower in your home. Contact us to discuss how we can help you create the bathroom of your dreams.